Do you want to share your layout ideas and automation concepts with others? CENIT FASTSUITE helps you to easily and quickly build up 3D layouts. Access to the complete library of simulation components, load them into your 3D scene and quickly assemble them to a 3D layout with our fast and easy drag&drop technology. Pre-defined mechanical connectors make sure that components fit together correctly. As soon as a 3D layout is available, you can directly interact with the components for reachability and validation studies, you can teach and even program robot motions for getting a first dynamic simulation of your project. Thanks to our concept presenter license, or by using the dynamic 3Dpdf export, it is also very easy to share the simulations with other project partners, or with customers.
The Advanced license also includes the option to define project-specific simulation resources, including kinematic and behaviour definitions, and to extend the library with your own standard parts.
Layout concepts
Layout building
Rechabilitiy studies
Tool Path Programmer
CAD Import Export
step
iges
jt
aml import
and others
Key Features:
Creation and modification of 3D layouts
"Drag & Snap" functions to position resources and to connect resources geometrically and logically
Validation of the layout: reachability, working spaces
CAD Import Export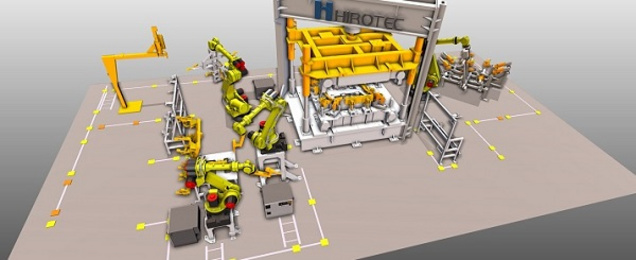 CENIT FASTSUITE is the tool of choice for virtually all offline programming requirements. Our standard package includes the complete library of application technologies, robot motion controllers and download postprocessors. For full support of multi-robot installations, the robot-team module is also included. Path planning is based on our proven "CAD to Path" technology with full parametric flexibility to cope with all relevant point-based and curve-based operations. Thanks to this "all in one" license, the FASTSUITE OLP package provides everything from one source – no matter what robot or technology is concerned. Of course, the FASTSUITE simulation capabilities with full collision check, axis limit and singularity test and other issue monitoring functions ensure that the final result is highly reliable.
The Advanced licenses provides a special add-on for sheetmetal production processes by adding the powerful fixture builder as well as the option to export a concept fixture via STEP back into the CAD system for further detailing.
The Premium license extends all offline-programming functions with algorithms for surface-based path planning.
Robot-/machine programming & validation
Motion
Process/technology
Logic
Cycle time validation
Connection to real controls (SIL, HIL)
Controller & Downloader Library
Specific motion planners
Download function to output the robot or machine program
Tehnology pckages to maximize system reliability
"CAD to Path" technology
Methodology for point-based operation
Methodology for curve-based operations
Collision check

Key Features:
Complex technologies and machining options can be easily programmed
Automatic collision detection
Upload robot programs from production (reverse engineering)
Support for Robotic and Machining complex technologies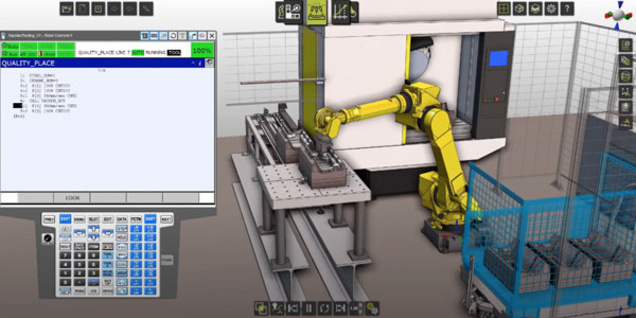 You want to upgrade your 3D layout to a real digital twin for entering into the world of real program validation and commissioning? The Automation engineer package provides all options for layout and resource building but with the extended option to define the I/O signal communication and the enhanced simulation behaviour of the components in your 3D layout. For a quick start, pre-configured connectors to relevant PLC controls, robot motion controls and virtual NC controls are already included. And for connecting CENIT FASTSUITE layouts with a controller where no pre-configured connector is available, the software also includes OPC-UA as a standard communication interface.
Production-sytem validation
Controller communication
Sensor communication
System behavior
Maximize system reliability
Improve predictability of production ramp-up
Cost & time savings
Robot-/machine programming & validation
Motion
Process/technology
Logic
Cycle time validation
Connection to real controls (SIL, HIL)

Key Features:
Minimization of the real commissioning time
Project completion on schedule
Identifying risks early on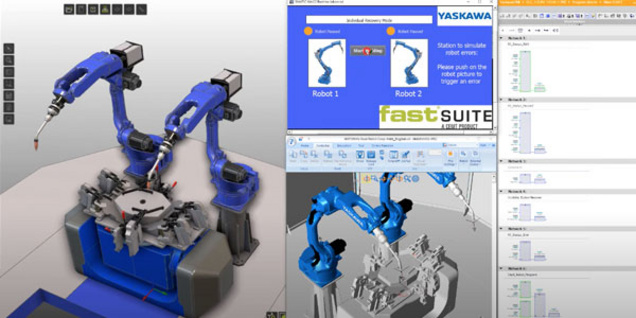 For supporting system integrators during their initial sales phase and during the following engineering phase of an automation project, CENIT FASTSUITE offers all relevant functionalities for a seamless and consistent workflow across all stages of the project. From the functional point of view, the Integrator package consists of Advanced Concept Planner and Offline Programmer Package. Open standards, such as STEP and AML import for CAD data and simulation resources, XML-based import structures for process planning information and the optional STEP and AML export functions ensure a seamless data exchange with project partners, and thus support a full digital continuity.
The Advanced license adds the Automation Engineer Package, closing the gap between engineering and commissioning by providing the option to connect virtual logic and motion controllers with the 3D layout for program validation, testing and commissioning.
The Premium license extends the robot programming functions with all options for surface-based technologies.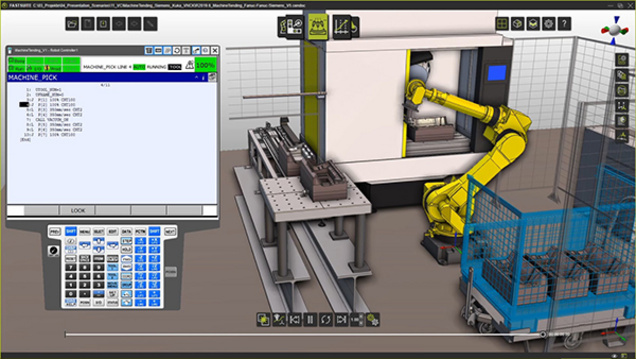 From layout creation to virtual commissioning
Layout Building
Offline Programming
PLC Validation
Connecting robotics, CNC and PLC in a simulation model
Robot library
Machine library
Various technology specific methodology
Key Features:
Open standards, such as STEP and AML import for CAD data and simulation resources
XML-based import structures for process planning information
Seamless data exchange with project partners
Full digital continuity