Significant time and cost saving through virtual controllers
FASTSUITE Edition 2 layouts can be upgraded to a digital simulation twin that becomes a digital version of the real cell, including all its signals and behaviors. With this digital twin you can not only create the robot program by using an internal simulation, but you can also verify the programming result by using external virtual controllers from the manufacturers. This can be done even while the real robot cell is not installed yet or unavailable due to a running production.
The same simulation with virtual controllers can be used for the re-validation of robot code which is manually modified or changed by the operators, for whatever reason.
The connection with virtual controllers is also an attractive alternative to the use of RCS and RRS integrations, providing similar benefits but with lower costs, and with more manufacturers being supported.
Key Features
Validation of the robot programs by 3D simulation provides the robot programmer with a better understanding of the overall process.
Validation of robot motions, based on the motion planning from the manufacturer's controller
Simulation based on real robot code
Alternative to RCS and RRS integrations
Errors are less expensive to correct, when detected in a virtual environment
Faster real-world shop-floor set-up, reduced shop-floor commissioning time and earlier production starts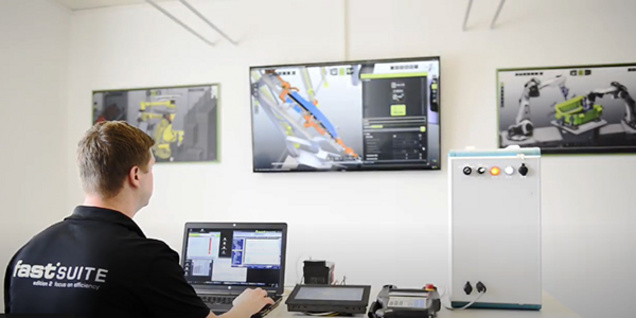 CHECKLIST VIRTUAL COMMISSIONING
Before the introduction of virtual commissioning many questions arise as to which steps and preparations need to be made in the company? On this topic, VDMA has compiled a comprehensive checklist with all the important steps for introducing this type of project within the company.
Contact us regarding questions about virtual commissioning with FASTSUITE E2.