Significant time and cost saving through virtual commissioning
Simulating plant changes leads to fewer startup issues and faster implementation
FASTSUITE Edition 2 allows you to design and build a digital twin that acts like a digital copy of the real cell, including all its signals and behaviors. With this digital twin you can define, test and safeguard all the functions in a virtual environment, even while the real robot cell is not installed yet or unavailable due to a running production. Unlike traditional robot simulation methods, the virtual model of FASTSUITE Edition 2 can be connected to the real control system, and communicates with the controller software with signals, similar to what the physical cell is doing. This enables users to validate and optimize all PLC functions as well as the robot codes in a safe simulation environment.
Anything – from single systems (machine, robot) up to entire digital factories - can be represented as a 3D simulation that pictures the system behavior on a 1:1 basis. This enables the system engineers or even the end users to see how the system actually behaves through interactive 3D visualization, not just variables in the control programs. Compared to common more primitive testing of the control software the interactive visualization is a big advantage, since such tests are usually made just with code or manually setting inputs or outputs according to the programmer's understanding of the real machinery. Also, tests that are difficult or even impossible to execute in reality without risking damage to the machines or the personnel can be executed in the simulation, resulting in better software quality and, most importantly, increased safety. The simulation model needs to accurately emulate the real system's behavior, but it is also crucial that the same exact control system and control software can be used with both the simulation and the real automation system. In practice, this means that the same PLC or robot controller hardware or software selected for the real system should be used for virtual commissioning as well.
FASTSUITE PLC validation solution allows you to clean up PLC code errors in a virtual environment before the codes are loaded onto a real system. Virtual simulation and validation of the automation equipment ensures that the devices function as expected. In addition, you significantly reduce the time it takes to boot the system.
Key Features
Validation of the PLC programs by 3D simulation provides the PLC programmer with a better understanding of the overall process.
High PLC program quality already in early project states
Total engineering time and prototype waste are reduced
Errors are less expensive to correct
Faster real-world shop-floor set-up
More speed, more productivity
Reduced shop-floor commissioning time
Earlier production starts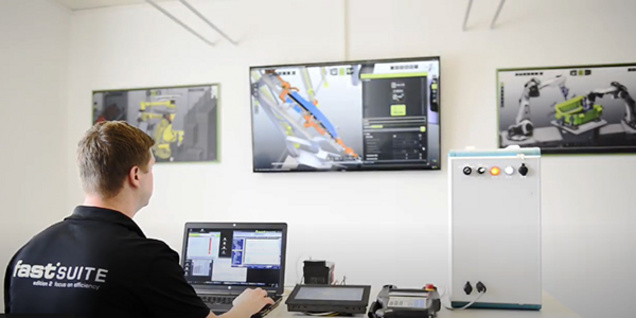 CHECKLIST VIRTUAL COMMISSIONING
Before the introduction of virtual commissioning many questions arise as to which steps and preparations need to be made in the company? On this topic, VDMA has compiled a comprehensive checklist with all the important steps for introducing this type of project within the company.
Contact us regarding questions about virtual commissioning with FASTSUITE E2.