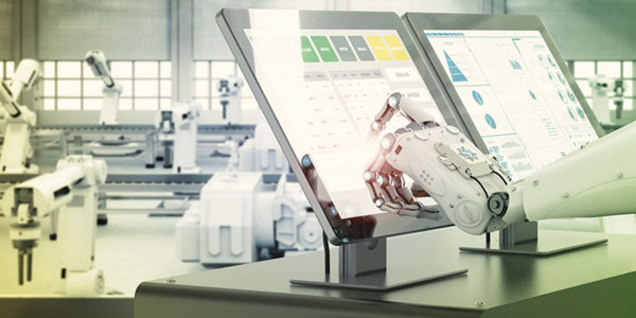 Continuous digital processes from design to production and beyond
The underlying solution concept of FASTSUITE E2 is based on the idea of the "digital twin", with a software architecture that aims to mimic the real production system as realistically as possible. E2's digital twin is structured and built like the real system and behaves like it. Each real element has a digital equivalent in the twin model and all movements are based on signals between the controllers and the associated resources (robots, portals, grippers, sensors, etc.). The users are supported effectively by the software system in every phase, so they are not overwhelmed by the sheer complexity of the real system, as is often the case in many other digital factory solutions.
FASTSUITE convinces by its ease of use, openness, system-side user support and the ability to integrate into customer-specific IT environments. In addition to the various import and export options for CAD data, resource data and process information, FASTSUITE Edition 2 provides a PLM integration module that allows FASTSUITE Edition 2 to be integrated into any PLM system using specific PLM connectors. This PLM integration can be used to ensure digital data continuity beyond the design to production process chain. This data continuity, ultimately, is the prerequisite for implementing end-to-end digitization strategies, involving all relevant components of an enterprise architecture including the ERP system.
FASTSUITE is driving that vision forward.
Contact us to explore all available aspects of PLM and IoT integration!